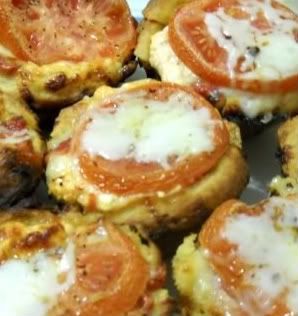 Don't let that burnt one fool, it was crazy good!

Feels good to blog again; heck, feels good to really cook! Recently I had been rather moody and down on myself, so my boyfriend took me out to the mall to cheer me up. Though I didn't buy anything there, I did pick up some groceries for the upcoming week.

It's funny because I only came to the supermarket to pick up bread and cola and came out with a miniature shopping trip. After that, I set out on a 4 hour cooking marathon making various dishes for the sake of variety. I'll post each recipe as I post each bento box.
1 can of crescents pastry (8 ounces)
Filling
1 whole red pepper
1/2 to 3/4 cup of milk
1 egg
3 1/5 oz of mozzarella, diced
Topping
1 tomato
Salt and pepper to taste
Italian seasoning
Olive oil
Shredded cheese (my personal favorite is the Italian blend)

Preheat oven to 400 F. Spray a cupcake tray with cooking spray.

Cut the pastry into 7 equal sliced and spread into the tray to make cups.

To make the filling, combine the milk, egg, mozzarella and pepper into microwave safe bowl. Heat on high for 3:30 to 4 minutes. Blend with a spoon until creamy.

While the cream cooks, cut the tomato into eight slices and drizzle some olive oil. Season to taste.

Pour into the cream into the pastry cups. Top with the seasoned tomato slices and a scant one teaspoon of cheese on top. Bake for 15 to 20 minutes.

Serves 7.