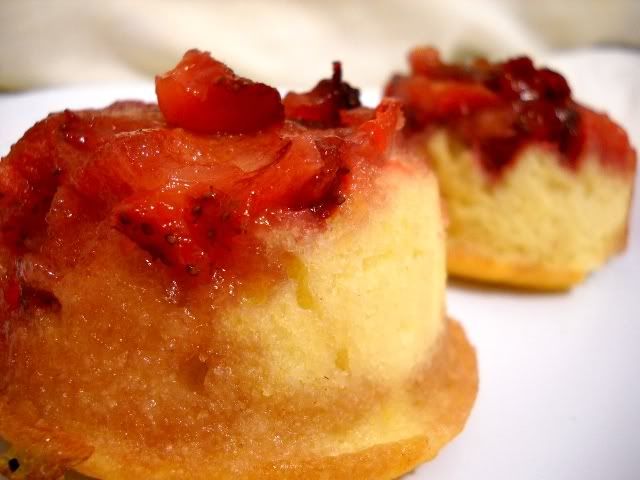 Hey, I'm getting the hang of this photo business!
Since the last entry, I have cooked very little. So little in fact that I haven't neglected my kitchen like this since my freshman year (ahh, academic freedom, I miss you so).

On the upside (pun not intended), I got myself a little toaster oven recently to indulge in a little baking in my free time. Other than making crispy toast, I was pleasantly surprised that it can bake just as well as my old oven. To try the feature out, I referenced 500 cupcakes by Fergal Connelly, tweaking the Pineapple Upside Cupcake using milk to make a spongier cake.
For the topping
4 fresh strawberries, minced
1/ 4 cup of sweet butter, softened
1 /4 cup self rising flour
generous 1/ 4 tsp of vanilla extract
Start by spraying the cupcake tray with cooking spray and preheating the oven at 350 F.

Cover the bottom of the mould with the minced strawberries (1 per cup should be enough). Drizzle a tablespoon of honey and sugar and combine lightly.

Mix the egg, flour, milk, vanilla and the rest of the cupcake ingredients in a bowl. Whisk until a creamy, but slightly stiff texture is made. Spoon the batter onto the strawberry bottom.

Bake for 22 minutes, being careful not to over-bake. Makes 4 big cupcakes.

If you'd like more cupcakes (I use a very small mould that's just enough for two people), just multiply the ingredients to your liking.